On 29th October, we began a new reconciliation programme for Israeli and Palestinian influencers. Twenty young leaders came together for the first in a series of online meetings focusing on dealing with the past, understanding the day-to-day lives and experiences of the conflict on the other side, and concrete steps we can take to promote reconciliation in our circles of influence.
The second meeting took place on 5th November, where the group heard from two expert speakers from our Dealing with the Past Team: Brig Gen. (Ret) Israela Oron and Saman Khoury. Both delved into the pillars of the model, the process of creating the paper, and the most difficult issues to address. This was followed by a participant-led discussion about obstacles to reconciliation in both societies.
On 16th November, in our third meeting, we jointly explored dates in the conflict that hold mutual significance or poignance, for example 1948 or 1967. This allowed both sides to hear how the same date has different meaning or narratives attached to it. After this, each partner presented their personal story to the group.
In our fourth meeting on 24th November, we were joined by conflict expert, Dan Rothem who engaged the participants in a fascinating discussion about trust, compromise and the psychological barriers to conflict resolution that take root in both societies.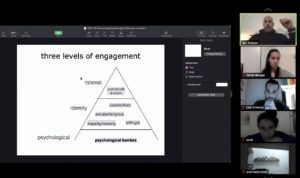 On December 11th, Dr Suleiman Abu Dayyeh, democracy expert and activist, engaged with the group about the political situation in the Palestinian Territories, prompting a conversation about the empowerment of young people in both societies.
On December 17th we held a seminar with Mo Bleeker, Special Envoy for dealing with the past at the Swiss Foreign Ministry, and Karl Blickle from the SHARE Foundation, who offered their insights into lessons learned from other conflicts from Colombia to the Philippines.
The two-month training program ended on December 28th with the participants presenting their own initiatives and creatives ideas for our upcoming reconciliation campaign on social media. Our Israeli director reminded the group that they are now an integral part of the forces in both society advocating for change and hope, and that they have now joined "the club of those who don't give up." We intend to work with these graduates to help develop the ideas and initiatives that they have started to build, and look forward to meeting in person after the pandemic.