The Two-State Solution:
Why, what, how
How do you solve the Palestinian-Israeli conflict?
Over the past century of commissions, negotiations and proposals, the answer has remained the same: The Two-State Solution.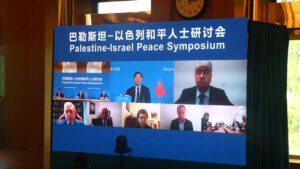 Chinese FM: China is ready to propose new ideas for peace talks, reaffirms commitment to the two-state solution and supports expanded role for the Geneva
The Geneva Initiative serves as proof that a solution to the conflict is possible.
What are the on-the ground obstacles to a two-state solution and how can they be overcome? Watch this virtual tour by GI expert Dr. Shaul Arieli