The Two-State Solution:
Why, what, how
How do you solve the Palestinian-Israeli conflict?
Over the past century of commissions, negotiations and proposals, the answer has remained the same: The Two-State Solution.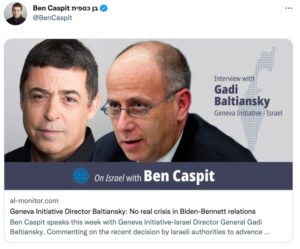 Listen here to the Geneva Initiative's Director General, Gadi Baltiansky share his analysis about recent political and diplomatic developments including US-Israel relations, new settlement announcements,
Support for the two-state solution increased from to 46% up from 36% the month before.
I know that at the end of this meeting we did not solve the conflict, but together we felt the viability of reaching a solution.